Top Quality Kiln Dried Logs Available in Canterbury
The process of kiln drying reduces the moisture content of the wood to 20% and below providing increased heat output, burning cleaner and longer whilst reducing ash and tar within your fireplace. Kiln dried logs are fast becoming the first choice for people with log burners and open fires. In 2018 The department for environment and rural affairs held a consultation to identify the impact of burning wet or damp wood in wood burners has on people and the environment and are putting in measures for producers and suppliers of wood in order for them to be regulated. We have recently taken the step to join the Government scheme called Wood sure ready to burn in order for us to continue selling the best Kiln dried wood.
All of our kiln dried logs are guaranteed to have a maximum moisture content of 20% moisture or less, we test them regularly to keep the quality to a high standard.
Our Kiln dried wood is sold in 0.7 cubic metre bulk bags and can be delivered straight to you. We offer a range of Kiln dried woods each one burns slightly differently.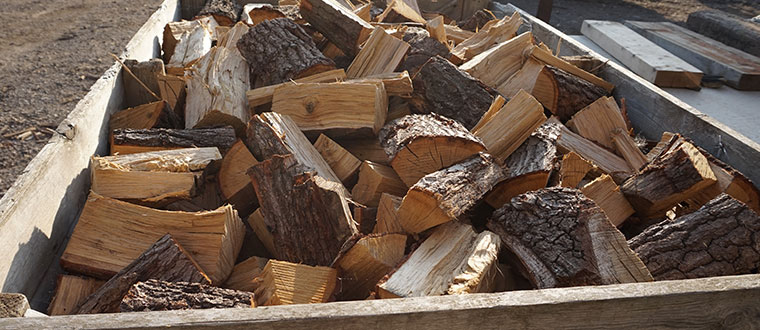 Kiln Dried Oak logs
Bag size 0.7 cubic metre
Our kiln dried oak logs have a high heat output and are great for intense burning for long periods of time. Their low moisture content keeps the flame burning clean and hot, Recommended for both new and old wood burners.
Kiln Dried Ash logs
Bag size 0.7 cubic metre
Our kiln dried ash logs have a high heat output, bright flame and burn cleanly with little smoke. They are naturally a dryer wood and are one of our best selling logs. (Helpful hint: store all logs in a dry, well ventilated log store or shed, keep well protected from the rain)
Kiln Dried Mixed logs
Bag size 0.7 cubic metre
Our kiln dried mixed logs are an ideal mix for people who only want to buy one bag at a time or customers who are new to wood burning. The bags contain a selection of hard woods which are ideal for starting fires and keeping them burning long into the night, (Helpful hint: ask staff to point out the different types of wood in the bag when delivered to enable customers to identify the burning selection process) Recommend for both new and old wood burners.
Kiln Dried Nets of Oak logs
These are a great way to get started, we sell them individually or on a deal of 5.
Kindling
Good quality kindling sold by the net. Perfect for getting our logs burning.
Delivery and Collection Available
All of our kiln dried logs are available for customer collection from our Canterbury store or for delivery across Canterbury, Whitstable, Herne Bay, Sittingbourne, Thanet and beyond. Please see our delivery page for further information.
Our firewood log delivery areas include:
Latest Log Prices
Air Dried Logs (bulk bag) 0.7 of a cubic metre

Mixed logs (Bulk bag)

£85.00

Ash (Bulk bag)

£85.00

Log Stacking Service

£18.00 per bulk bag
Kiln Dried Logs (bulk bag) 0.7 of a cubic metre

Mixed logs (Bulk bag)

£99.50

Ash logs (Bulk bag)

£99.50

Oak logs (Bulk bag)

£115.00

Nets of Kiln dried mixed logs

£7.25 per net or 5 for £35.00

Kiln Dried Kindling

£7.00 per net or 3 for £20.00

Log Stacking Service

£18.00 per bulk bag