Top Quality Air Dried Logs Available for Delivery
At Meadow Grange Logs we can supply a range of hardwood logs in builders bulk bags: Ash, Oak, Beech, Chestnut and mixed logs. All logs are air dried between 1 and 2 years and barn stored once cut to keep them dry.
With any air dried logs the wood needs to be dry before burning takes place, our logs are stored inside with air circulating around them, once delivered the logs need to be kept away from the rain. At Meadow Grange we keep our logs inside a barn to help with the drying process and to keep the logs as dry as we can for you.
We cannot guarantee the moisture content of the air dried logs.
All wood is cut and sourced from a well-rotated coppiced woodland in Kent and the surrounding areas.
Our barn stored air dried logs are suitable for a range of fire types, including; Wood burners, stoves and open fires.
We are always happy to advise customers on the types of logs available and which are best for them.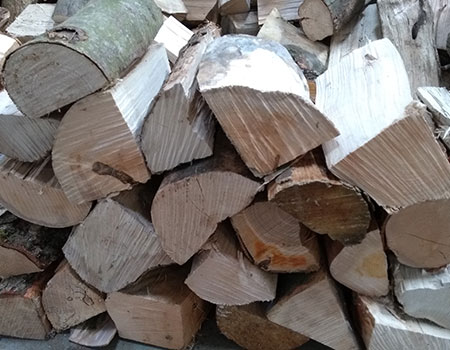 Mixed Logs
Mixed Logs are one of our most popular bags, the mixed bags contain a selection of hard woods. (Help full hint: Pick out the Birch logs in the bags and start the fire with them, they burn easily, then start adding to the fire the other types of logs from the bag.)
---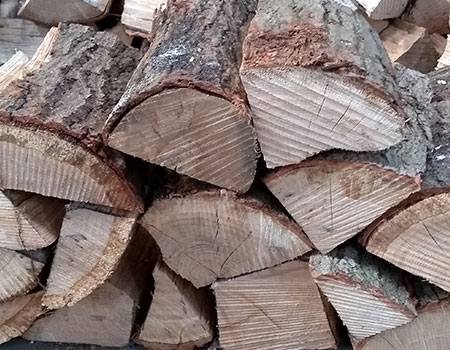 Oak Logs
Oak is a very dense wood, it burns for a long time and great for burning after the fire has been going for an hour. (Helpful hint: Oak can sometimes be hard to light from cold, add Some Oak logs to your log burner before you go to bed and it will still be hot in the morning)
---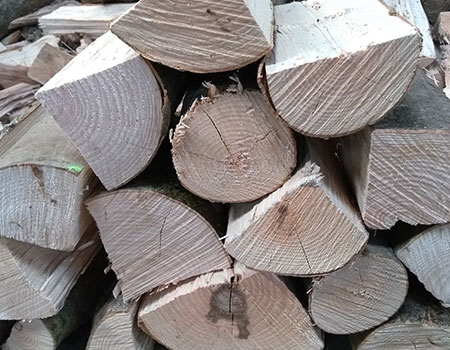 Ash Logs
Ash is a great log for starting a fire, its clean flame burns brightly and gives a good amount of heat out. (Helpful hint: for best results start with Ash logs and then stock up once the burner has been burning for a while with Oak logs.)
---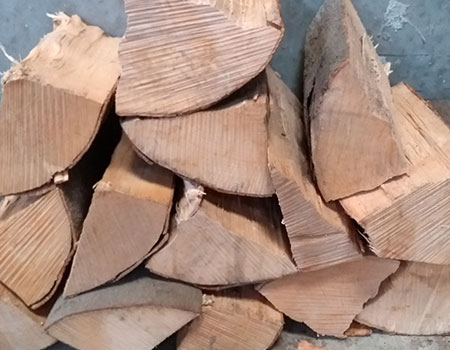 Beech Logs
Beech is a very similar type of wood to Ash and will give out a very similar light and heat.
---
Chestnut Logs
Chestnut is a hard wood that is only suitable for wood stoves and not open fires as it will spit whilst burning.
---
Nets of Logs
Our nets of logs are mixed hard woods and contain no chestnut which make them ideal for log burners and open fires.
---
Kindling
Good quality kindling sold by the net. Perfect for getting our logs burning.
---
Delivery and Collection Available
All of our firewood logs are available for customer collection from our Canterbury store or for delivery across Canterbury, Whitstable, Herne Bay, Sittingbourne, Thanet and beyond. Please see our delivery page for further information.
Our firewood log delivery areas include:
Latest Log Prices
Small price increase from May 21st 2021
Air Dried Logs

Mixed logs (Bulk bag)

£66.50

Oak (Bulk bag)

£72.50

Ash (Bulk bag)

£72.50

Beech (Bulk bag)

£72.50

Chestnut (Bulk bag)

£63.50

Nets of mixed air dried hard wood logs

£5.60 per net or 5 for £25.50
Kiln Dried Logs (Large Cubic Metre Bags)

Mixed logs (Cubic metre bag)

£155.00

Ash logs (Cubic metre bag)

£155.00

Oak logs (Cubic metre bag)

£155.00
Kiln Dried Logs (bulk bag) 0.7 of a cubic metre (New)

Mixed logs (Bulk bag)

£95.00

Ash logs (Bulk bag)

£95.00

Oak logs (Bulk bag)

£95.00

Nets of Kiln dried Oak logs

£6.75 per net or 5 for £30.00

Kiln Dried Kindling

£5.25 per net or 3 for £14.50
Our bulk bags of Kiln dried logs are priced at the same rate as the cubic metre bags.