Christmas Trees and Decorations
As regular customers will know, we pride ourselves at Meadow Grange on bringing you the best selection of Christmas trees in Kent. Our non-drop potted and traditional tree selection is huge and we supply a wonderful assortment of shapes and sizes to fit everyone's home.
Added to our great range of trees, this year we will have our largest selection ever of Christmas decorations and delightful gift ideas filling up the garden centre - a magical Christmas display to get everyone in the festive spirit.
We will also be making our own fir and holly wreaths to sell at the nursery offering a wide range of festive colours and we can even make bespoke wreaths to match your decor!
In addition to our fine selection of trees, lights and decorations, we will also have a great selection of Christmas gift ideas and festive plants available and the Meadow Grange cafe will be tempting visitors each weekend throughout December making all your favorite festive food including delicious turkey rolls with cranberry sauce and stuffing!
Christmas Tree Care Tips
---
Special Visitors this Year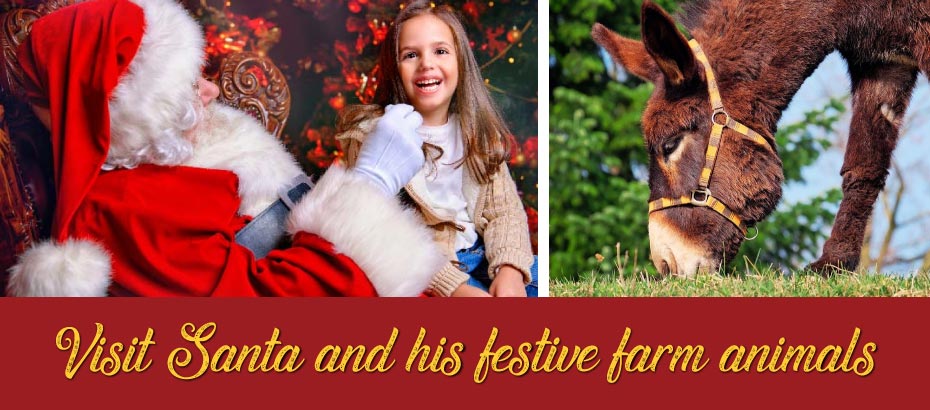 I'm sure you'll all be delighted to hear that from the 27th November our fabulous festive farm animals will be back at Meadow Grange for the Christmas period through to 20th December, putting smiles on faces and helping to raise money for the Whitstable and Herne Bay Lions.
Also, on the weekends of the 2nd-3rd, 9th-10th and 16th-17th of December we have a very special visitor coming to see us. Yes - Father Christmas will be here greeting visitors and raising money for local charity.
Due to the volume of visitors in recent years, this December we have a booking system to avoid large queues and there will be a charge of £8.50 per child with a range of gifts to suit the ages of your children. The link to the booking page is below:
Book here to visit Santa
---
Christmas at the Meadow Grange Farm Shop
Why not take the stress out of the Christmas food shopping this year and buy local at our fantastic farm shop at Meadow Grange. From December the farm shop will be selling all sorts of culinary delights; festive meat from The Butchers at Brogdale - turkeys, beef, sausages, locally sourced veggies, Christmas cakes, mince pies and everything else you need to create the perfect Christmas feast. We even have a great range of local beers and wines and fabulous Kentish fizz to wash it all down!
We have also booked up some fantastic tasting sessions with our suppliers in December - here's the current list:
Friday 1st December - Bon Bons
Saturday 2nd December - Copper Rivet Distillery
Sunday 3rd December - Chai Stop
Saturday 9th December - In-house - Cheese, crackers & pickles
Sunday 10th December - Anno Distillery
Saturday 16th December - Original Baker
Sunday 17th December - In-house - Cheese, crackers & pickles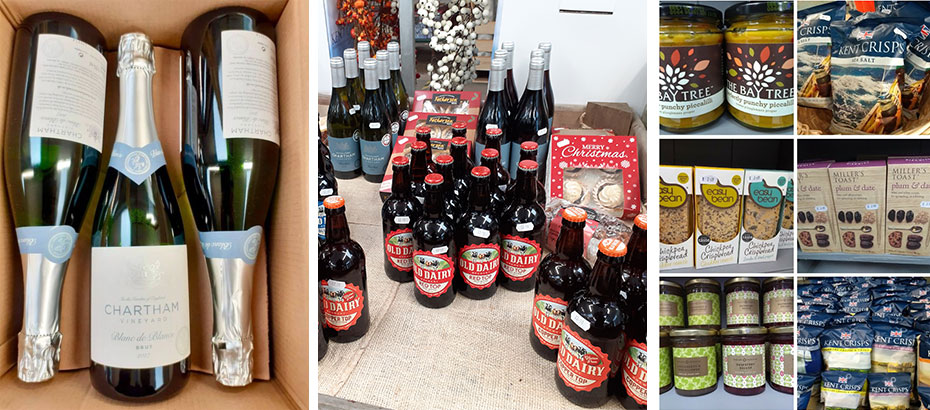 ---
We're Here to Help
If you think of someone that needs some help organizing their Christmas please give us a call or pass our number on to them and we will take their orders and take Christmas to them.
Our delivery service will be running right up until 22nd December and we will make sure that the Meadow Grange team will be there to help you all have the best Christmas EVER!!
Just as a final note, the Meadow Grange team would like to thank all of our customers this year for supporting us. We have some exciting projects coming up in 2024 including our new purpose built cafe. We really do appreciate each and every one of our customers and the lovely comments and reviews that we receive from you.
Best wishes to everyone for a very Merry Christmas and a Happy, Healthy New Year.
Meadow Grange Team.
---
Christmas Tree Care Tips
If you are not ready to bring your tree indoors straight away stand it outside somewhere cool and sheltered – you may want to stand it in a bucket of water.
When you are ready to bring your cut tree indoors cut a slice of at least 25mm off the bottom of the trunk to allow the tree to take up water – just like a cut flower.
Display your tree in a stand which has a reservoir of water – this will need checking and topping up on a daily basis as a tree can take up over a litre of water per day.
Adding Christmas tree food to the water will help to keep the needles fresh.
Trees in pots will also need checking and watering on a regular basis.
Stand your tree in a cool place indoors and away from heat sources like fires and radiators as this will cause them to dry out much quicker.
---
---