Christmas Newsletter 2021
Don't you just LOVE Christmas - we certainly do at Meadow Grange. Even though there is always so much to do throughout December, it's always such a pleasure working at this time of year and seeing the excited faces of the children when they pick out their Christmas tree, meet our festive farmyard friends or visit Santa.
Last weekend we had the absolute pleasure of hosting Santa in his Grotto at Meadow Grange as we helped the Whitstable and Herne Bay Lions raise over £520 to support a range of super local charity projects. We received some lovely feedback on Facebook from lots of you about how festive it felt and what fun you had visiting and seeing Santa and the animals, thank you so much for the kind words.
Of course Santa has lots of other places that he needs to visit before Christmas Day so although he won't be back at Meadow Grange again this December, our donkeys, pigs, goats and sheep will be here with us throughout the month so do pop in and see them when you visit.
We were also joined at the weekend by some of our Farm Shop suppliers; Curd & Cure and Wheelers Oyster Bar, who shared some samples of their stunning produce with customers as they walked around the Farm Shop. We have a super range of locally sourced and grown produce available in the shop leading up to Christmas and we are still taking orders for Kelly Bronze Turkeys - find all the details on the Meadow Grange website or ask in store.
Finally, I just wanted to say a massive thank you to the whole Meadow Grange Team, all of our suppliers and of course you - our customers. The past couple of years have been such a challenge for so many and I'm continually amazed at the friendship, kindness and generosity of people through the most difficult of times.
---
Staff Picks for Gift Ideas
Trying to find that perfect gift for someone who has everything? We asked a few of the Meadow Grange staff to pick out their top gift ideas from around the Garden Centre and Farm Shop - here's what they came up with….
General Manager Peter chose two light up Christmas cushions.
Ali chose a fully planted up wooden planter.
Unsurprisingly our Christmas tree guru Will chose………..a Christmas Tree!!!!
Paul's selection was a delicious bottle of sparkling Kentish fizz from Chartham Vineyard.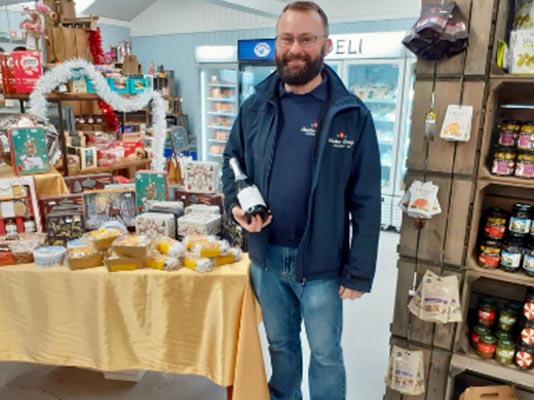 Unsurprisingly our Christmas tree guru Will chose………..a Christmas Tree!!!!
And Jac picked out one of these cute little wooden, light up villages!
---
Christmas Opening Hours
Christmas Eve: 8.30am-5pm
Christmas Day: CLOSED
Boxing Day: CLOSED
27th December: 9am-4pm
28th December: 9am-4pm
29th December: Normal Hours
30th December: Normal Hours
31st December: 8.30am-5pm
1st January: Closed
2nd January: 10am-4pm
3nd January: 8.30am-5pm
4rd January: 8.30am-5pm
---
Christmas Gift Vouchers
Lots of customers have been asking us about gift vouchers for Meadow Grange. We sell and take as payment HTA National Garden Gift Vouchers - please just ask in store.
---
Our New Plants Manager
We're really pleased to be able to announce the appointment of our new Plants Manager at Meadow Grange. Dulcy has been working for us for just over a year and was recently promoted to manage the fabulous Plants Team.
Her team of Lisa, Victoria, Ali and Sally are responsible for looking after all of our plants and creating the fantastic floral displays that you see around the Garden Centre.
Between them the team has so much knowledge and experience in horticulture so if you need some help with anything when you pop in be sure to ask.
We just wanted to say a huge congratulations to Dulcy on her very well deserved promotion and to the Plants Team for the amazing work they do.
---
Farm Shop Festive Delights
The Farm Shop at Meadow Grange is stacked full of fabulous festive delights. We have everything you need for that Christmas food shop including fresh local veggies, a fabulous selection of meat and poultry, cheeses, charcuterie, biscuits and sweets and a great range of locally produced beers and wines to wash it all down with.
---
Christmas Tree Care Tips
We thought it would be a good idea to re-share our top tips for keeping your Christmas trees looking gorgeous over the festive period:
If you're not quite ready to bring your tree indoors then stand it outside somewhere cool and sheltered - you may want to stand it in a bucket of water;
When you are ready to bring your tree inside, cut a slice of at least 25mm off the bottom of the trunk to allow the tree to take up water - just like a cut flower;
Display your tree in a stand which has a reservoir of water - this will need checking and topping up on a daily basis as a tree can take up over a liter of water per day;
Adding Christmas tree food to the water will help to keep the needles fresh;
Trees that are in pots will also need checking and watering on a regular basis;
Make sure that you stand your tree in a cool place indoors and away from heat sources like fires and radiators as this will cause them to dry out much quicker.
There you have it - our top tips for a beautiful tree this Christmas, if you do have any questions then please don't hesitate to ask one of the team at Meadow Grange - we're always ready to help.
---
Christmas Photo Competition
You know we love a good photo competition at Meadow Grange so we can see the fantastic work our customers put in to making their gardens look amazing.
Well for December we thought we'd bring a nice festive twist to thew competition so we would love to see photos of our customers' beautifully decorated Christmas trees.
Please private message them in to our Facebook page or attach them to the social media posts announcing the competition and Peter, our General Manager will pick a lucky winner on the 21st December.
Seeing as it's Christmas, the prize will be a delicious bottle of Kentish Fizz from one of our super local vineyards. So get those trees nicely decorated and get snapping.
Here's the link to the Meadow Grange Facebook page: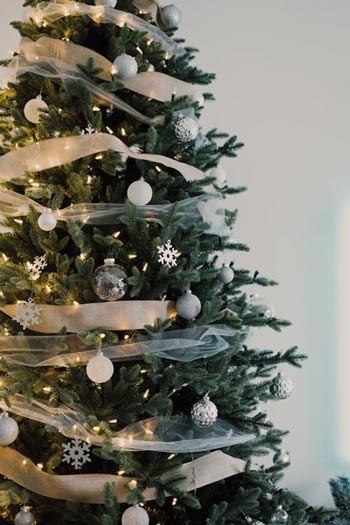 ---
Meadow Grange News Round Up
New Supplier at Meadow Grange
As mentioned by Peter in his comments at the top of the newsletter, we are so pleased to be able to announce that the fabulous Wheelers Oyster Bar in Whitstable will now be supplying our Farm Shop at Meadow Grange with some of their delicious products.
You can find out more on the latest news article on the website -
here.
Top Facebook Comment
Our management team at Meadow Grange read all of your reviews and comments good or bad and we always try to take on recommendations. This was our favourite Facebook Comment from last weekend:
"Well done everyone - had a lovely few hours looking around picking our Christmas tree out. Then a stop off for cake and coffee in your cafe. The animals are great too. Well done, hope you all have a great Christmas"
Thank you Sharon Harman, we hope you and your family have a very Merry Christmas too.
---
Follow us on the Socials
If you use Facebook or Instagram then do follow us to make sure you keep up to date on everything that is going on at Meadow Grange.
All News & Offers